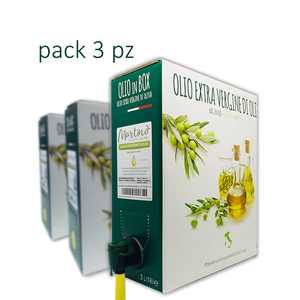 Format and packaging: 3x 5

LT, Bag in Box
Product description
The innovative BAG in BOX container that allows easy pouring of oil through the convenient dispenser. Our type of oil is produced exclusively with physical-mechanical processes capable of preserving and enhancing the organoleptic characteristics of the olives. It always has an acidity of less than 0.4% (therefore clearly below the legal limit of 0.8%). The olives are strictly hand-picked directly from the plant and processed within 24-48 hours by cold pressing processes. The oil produced comes from two varieties of olives typical of our area, Coratina and Ogliarola from Bari: the first gives a more fruity and full-bodied oil, with an intense green color and which is preserved for a longer time; the second, grown only in Giovinazzo and in some neighboring countries due to lower productivity, produces a more delicate and rounded oil, with a beautiful gold color. From their skilful combination in the right proportions derives an oil of exceptional characteristics, of a pale green color with golden reflections and with clear scents of fresh olive with hints of artichoke. On the palate it is soft and caressing, with a light and pleasant spicy and almond aftertaste. It is marketed in its natural state (with an opaque appearance, but with a more intense flavor) and with a maturity of 18 months, if properly stored (away from light, heat and air).
More details
Olive varieties

Ogliarola, Coratina

Taste of oil

Medium fruity

Preservation

I

in a cool and dry place. Protected from light, heat sources and bad smells. Once opened, minimize exposure to air.

Product lifespan

To be consumed preferably within 18 months from the date of bottling.

Pairings

It pairs very well with bruschetta with tomato, tuna carpaccio, porcini mushroom salads, grilled radicchio, vegetable soups, pasta dishes with sausage, boiled octopus, red meats or roast game, hard aged cheeses.